Kumho BMW Championship: Rounds 5 & 6
3 minute read:
The Kumho BMW Championship circus rolled back into Norfolk's premier race circuit for another weekend of racing. Having missed the last round at Rockingham our man Paul Travers was chomping at the bit to get back behind the wheel of the Automac E46 M3. He was again the only runner in class A2, so he had his sights set on the M3s running on slicks.
If you missed the write up from Rounds 1&2 Paul has upgraded to an M3 for the 2017 season which puts him into the A class, but is running treaded road tyres so is in class A2.
The free practice session showed Paul was in high spirits for the weekend. The car initially looked quite lively sliding around the corners and mysteriously jumping over the curbs at Nelson again. I don't know what it is about that corner (remind yourself of his line last year here). I don't mind, I'd stood there in the hope that he'd do it again, it makes a great shot!
For the first race of the weekend Paul put the car in 8th position on the grid sandwiched between 2 E36 M3's running on slicks. The car performed faultlessly proving to be impeccably reliable again, he was largely racing by himself. With other cars falling back with some mechanical issues he crossed the line in 6th well amongst the cars running on slick tyres.
Sunday was by far and away the best of the races for Paul. Having qualified in 6th he found himself having a 15-minute scrap with a 1 series running with an S54 engine. The driver, Ricky Kerry, is a well-established competitor in various race disciplines and was not going to let Paul pass easily. The E87 is still being developed, but has the same engine as Paul's car, less weight, and slicks. I was stood at the side of the track and as they came past; lap on lap a different one of them would be in front. They were pushing hard, so hard in fact that Paul came within less than half a second of the A2 class lap record (2.06.38) around the Snetterton 300 circuit. The record has stood since 2011 and was set by Garrie Whittaker, another well-respected driver. Unfortunately the 1 series prevailed and managed to hold onto 6th overall. It had been a great battle, and I for one am looking forward to the rematch.
Speaking with Paul subsequently this battle was the highlight of his weekend, and was a timely reminder of what is great about this championship. As politics seem to be creeping in more and more; it was great to see close, competitive racing throughout the field.
The next round of the championship is from Thruxton on the 3rd/4th June. The championship will be supporting the British Truck Racing Championship; if you've never seen them racing it really is a sensory overload! Tickets start from £11 and are available direct from Thruxton.
An additional note of thanks to Specialist Cars, and Allsystems
Author: Graeme Franklin
Photography: Graeme Franklin
Want to add something? Get in touch here or leave a message below.
Recent Adverts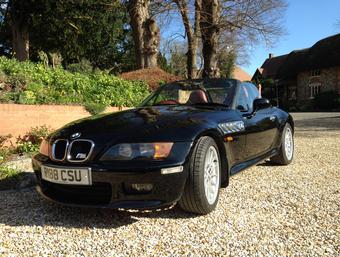 This rare black Z3M sport (not M-powered) has covered 85250 miles. (-1997)
BMW service history and now with MOT until Feb 2022.
POA 85,450 miles