£4,795
BMW 3 Series 328i Convertible
Blue, Petrol, Automatic
Exceptional E36, i have owned it for 2 years, and have bought it up to great condition, replacing all worn parts. Drives perfectly now. I havent used it over the winter, and only use it occasionally now, it is always garaged.
These are the parts that been replaced :
Rear trailing arm bushes
Rear subframe bushes
Rear shock absorbers and mounts
Rear wheel bearings
Hand brake shoes and cables
Rebuilt rear callipers

All brake hoses
All fluids including PAS and Auto gearbox
Water pump
Thermostat
Chain tensioner
Breather pipes and air valve
Rocker gasket
Exhaust mountings

Front control bushes
Front droplinks
Front discs and pads
Front air intake grille
New Bluetooth stereo
Bonnet gas strutts

Excellent history , she has been very well cared for, and needs to be seen and driven to be appreciated.
Advert Overview
Contact Seller
Contact: Snowplough
Contact form
Location: East Sussex
Similar adverts
Z3 Individual, Velvet blue, 2.0 Straight 6, Factory fitted hard top. (2001)
Very rare and very well kept, number 5 of 379
POA 81,372 miles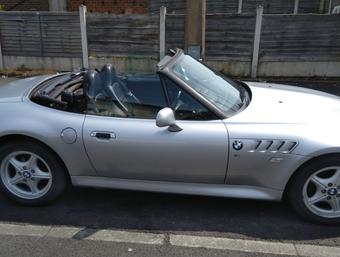 BMW Z Series Z3 Roadster (1997)
Silver, Petrol, Manual
£1,650 108,789 miles