£7,250
BMW 540i Auto "High Line"
Probably the best e39 for sale today - First to see will buy, I hope!
For sale is my BMW e39 540i Auto "High Line" in Titan Silver Metallic Paint with Black Leather Interior. The car has done ONLY 25624 miles. It has the following options from factory:

204A Shorter Final Drive Ratio
210A DSC
216A Servotronic Steering
223A Electronic Damper Control (S-EDC)
249A Multifunction Steering Wheel
261A Side Airbags for Rear Passengers
354A Green Windscreen, green shade band
360A Star Spoke 81 Alloy Wheels
403A Electric Glass Sunroof
415A Sun-blind Rear
423A Floor Mats Velour
428A Warning Triangle and First Aid Kit
431A Interior/outside mirror with auto dip
438A Fine Wood Trim
441A Smoke Package - NEVER SMOKED IN
459A Seat Adjuster Electric with memory
473A Armrest Front
494A Seat Heating driver/passenger
500A Headlight wipe/wash/Intensive cleaning
520A Fog Lights
522A Xenon Headlamps
534A Automatic Air Conditioning
555A On-board computer
602A On-board monitor with TV
640A Prep for Telephone Installation
676A HiFi Speaker System
694A Provision for BMW 6 CD Changer
818A Battery master switch
823A Hot-climate version
853A Language version English

PDI 11/09/2001
Running In Service 20/03/2002 at 1138 miles
05/09/2003 at 5304 miles
07/09/2004 at 7419 miles
01/10/2005 at 8879 miles
04/09/2006 at 10158 miles
26/08/2008 at 13180 miles
29/09/2009 at 15642 miles
31/08/2010 at 17573 miles
16/09/2011 at 19128 miles
04/09/2012 at 20177 miles
19/08/2014 at 22227 miles
06/09/2016 at 23994 miles
09/09/2017 at 25342 miles

The shorter final drives makes this a very very swift car, Kevin Gaskell from BMW GB always specified this option on this 540i demonstrators as he wanted M5 acceleration from a 540i auto!

I have had a Dynavin N6 Multi-media unit fitted, this is an exact look a like to the pro nav wide screen unit except it features modern mavigation, Bluetooth, reverse camer (fitted in number plate light holder) etc. Car will come with the old unit for completeness.

As you will see from the attached pictures the car is in exceptional condition, however to make it perfect it requires 3 wheel refurbishments and there is a very very tiny rub mark to the lacquer on the passenger side rear bumper corner, a very easy repair for a smart repair man. I have not had it done as I am a firm believer that perfect cars seem to attract shopping trolleys and car door dinks like magnets! Tires are matching Bridgestones with 6 mm all round. I have 2 full remote keys and the think black emergency wallet key.

After searching the UK for the best e39 540i I could find I realised that I would not find a car to the standard I was looking for, most cars have been enjoyed and have covered lots of miles, or were showing signs of corrosion. My search then lead me to Japan where I found this very car, as a few may know Japan does not suffer the same climate we do and thus my car is totally RUST FREE. Japan record speed and distance in KM, so I have the speedo fascia changed to that of a UK car, but retained the factory original cluster, thus speed is registered in MPH and KMH, the odometer records in KM.
Advert Overview
Contact Seller
Contact: Prodrive8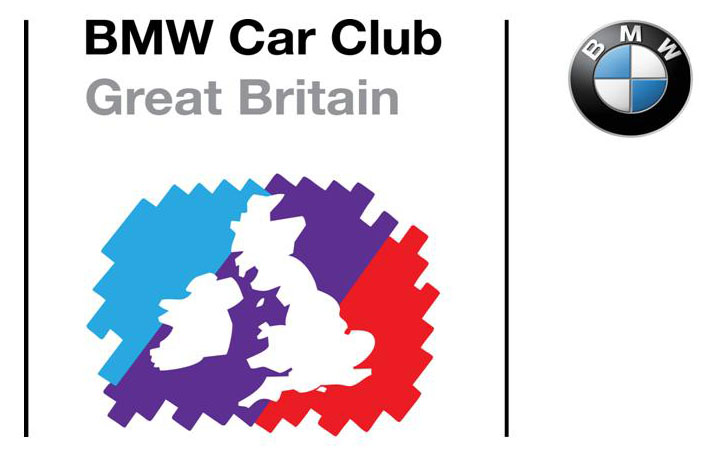 The seller is a member of the BMW Car Club (GB) Ltd.
Contact form
Location: London
Similar adverts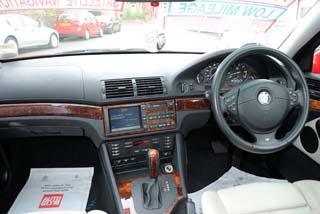 Red, Petrol, Automatic.
£7,995 69,000 miles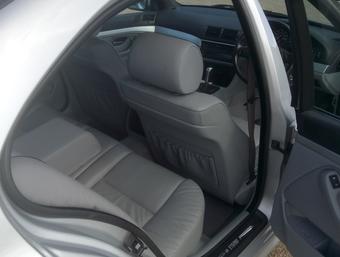 BMW 5 Series 520i SE Auto (2002)
Silver, Full Grey Leather, Split Rim Alloys, FSH
£1,750 140,098 miles